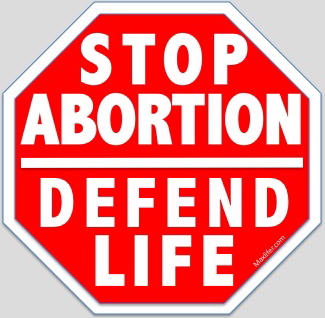 Here is something I don't understand...it is illegal to kill a bald eagle or certain types of animals but its okay to kill a baby? I mean a live human being! My dad's friend from Hawaii says they have more protections for animals than for humans. It just doesn't make sense to me. The thing we should be really worried about is protecting are unborn children! They are not just a lump of cells, they are humans.
Abortion might seem fine on the outside but most people don't know what it is. It involves killing the live baby in your womb. This could be by injecting poisonous chemicals into its body, making the women have a premature birth just to cut its spinal cord and sometimes after it is done, flush it down the toilet. As you can see abortion is safe, friendly and kind....how about not! Abortion is cruel and inhuman and we must do everything we can to stop it.
Here is something I found on Princeton.edu,
"Embryo: The developing individual between the union of the germ cells and the completion of the organs which characterize its body when it becomes a separate organism.... At the moment the sperm cell of the human male meets the ovum of the female and the union results in a fertilized ovum (zygote), a new life has begun.... The term embryo covers the several stages of early development from conception to the ninth or tenth week of life."
[Considine, Douglas (ed.).
Van Nostrand's Scientific Encyclopedia
. 5th edition. New York: Van Nostrand Reinhold Company, 1976, p. 943]
Sorry for all the technical terms...I don't understand some of them either..but I wanted to point attention to "a new life has begun.." I know some people will say this is false but life begins at conception! We need to stand up and fight for the unborn babies, my parish awhile ago went on a nature hike and prayed the rosary to stop abortion. I know one of the Catholic Schools up here goes to planed parenthood in Salt Lake to protest and pray outside of the facility. We need to stop abortion, it is murder!
What can you do?
Join a protest
Pray the rosary for the end of abortion
Educate people on the facts of abortion
There are many more but I just gave a few to help get your mind flowing!
Prayer for the unborn babies:
Almighty God, our Father,
you who have given us life
and intended us to have it forever,
grant us your blessings.
Enlighten our minds to an awareness
and to a renewed conviction
that all human life is sacred
because it is created
in your image and likeness.
Help us to teach by word
and the example of our lives
that life occupies the first place,
that human life is precious
because it is the gift of God
whose love is infinite.
Give us the strength to defend human life
against every influence
or action that threatens or weakens it,
as well as the strength
to make every life more human
in all its aspects.
Give us the grace...
When the sacredness of life
before birth is attacked,
to stand up and proclaim
that no one ever has the authority
to destroy unborn life.
When a child is described as a burden
or is looked upon only as a means
to satisfy an emotional need,
to stand up
and insist that every child is a unique
and unrepeatable gift of God,
a gift of God
with a right to a loving
and united family.
When the institution of marriage
is abandoned to human selfishness
or reduced to a temporary conditional arrangement
that can easily be terminated,
to stand up and affirm
the indissolubility of the marriage bond.
When the value of the family is threatened
because of social and economic pressure,
to stand up and reaffirm
that the family is necessary
not only for the private good of every person,
but also for the common good of every society,
nation and state.
When freedom is used to dominate the weak,
to squander natural resources and energy,
to deny basic necessities to people,
to stand up and affirm
the demands of justice and social love.
Almighty Father,
give us courage to proclaim the supreme dignity
of all human life and to demand
that society itself give its protection.
We ask this in your name,
through the redemptive act
of your Son and in the Holy Spirit.
Amen.